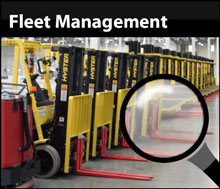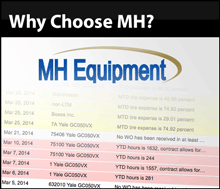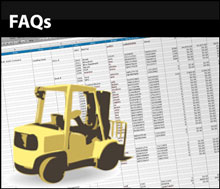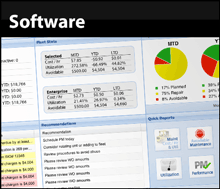 Welcome to MH Fleet, the Midwest's leader in material handling equipment for over 50 years. We offer fleet management for forklifts, lift trucks and other material handling equipment that will improve the efficiency and productivity of any size operation from our locations in Illinois, Indiana, Iowa, Kentucky, Missouri, Nebraska, Ohio, Pennsylvania and West Virginia.
For many companies, managing a fleet of material handling equipment can be a costly and time-consuming function. At MH Equipment, our goal is to get you out of the fleet management business and back to focusing on your core business by helping you control your material handling expenses and utilize your material handling equipment in the most efficient manner possible. We offer a variety of fleet management solutions and odds are good we have one that will fit your operation.
Our proven 5-step process, paired with our MH Fleet Management software system, offers you a flexible, affordable, single-source fleet management solution for all the equipment in your material handling fleet. We will partner with you to develop a proactive plan to minimize costs, maximize productivity; and increase the safety, reliability, and dependability of every piece of equipment in your fleet!
Since 1952, MH Equipment has provided quality new and used material handling equipment and fleet management services for companies big and small. Our trained professionals will analyze your entire fleet and offer suggestions to properly size, configure, maintain and manage your machines. We also provide fleet management software systems that will allow you to easily manage your equipment day to day.
To learn more, call us toll-free at 877.884.8465 or visit one of our locations in Chillicothe, Danville, Decatur, East Peoria, Ottawa, Illinois; Indianapolis, Evansville, Indiana; Cedar Rapids, Davenport, Des Moines, Eldridge, Ottumwa, Waterloo, Iowa; Louisville, Calvert City, Bowling Green, Lexington, Kentucky; Cape Girardeau, St. Louis, Missouri; Grand Island, Omaha, Nebraska; Cincinnati, Columbus, Dayton, Ohio; Erie, Pennsylvania and Charleston, West Virginia.